AT LAST!! Final blog post of the class!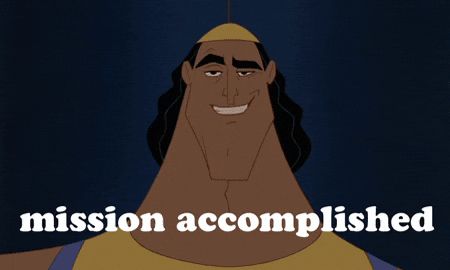 via giphy.com
Throughout this semester of taking EDTC300 (Education Technology and Media in the Classroom), I learned and gained an exuberant amount of knowledge through using Google+ communities, Twitter, and WordPress (blogging).  I have also learned that it is very important to have a positive and professional Personal Learning Network (PLN) and always to continue to add, subtract and build upon it.  In the duration of this course, I tried my best to begin and continue to contribute to my PLN with using a multitude of resources that I found myself, what other professionals have shared/used on social media and as well as sharing the resources that I used to benefit and educate others learning.  I have shared many resources and articles I have found on Twitter, in my weekly blog posts and occasionally through the Google+ community that we conversed in.
The biggest and most significant way to benefit and support others learnings, as well as your own, is through the use of commenting others blogs, tweets, and questions to give advice, share your experiences, give ideas, and share your perspective anywhere that is needed and that you feel would be influential and effective.
Now that the semester is over, it is time to step back and reflect on the past classes and think: "How have I contributed to the learning of others?"
Here is a link to the document of the class interactions and how I contributed to the learning of others.
Google+ Community
Google+ is a great program to use for a university course.  It is an alternative website to using UR Courses.  I have never used it before so this was the first time as well as with another course this semester.  Google+ allows you to connect, have conversations, post wonders and questions, etc., with your peers in the community.  Apparently, I wasn't very good at keeping up with the community…more importantly, I really only commented when I had an answer or when I could actually help someone out with something they were inquiring about.  I was informed at the end of the semester by one of my friends that there is an app for Google+ and when you have it, you get notifications from when someone posts into the community, but I didn't have it during the semester…but it would have been so beneficial if I had.  It is a really great program as people post questions about blogging and stuff and it answered a lot of my questions.
Twitter
Personally, I don't mind using Twitter.  I have had Twitter for some time now, but only really used it a bit before taking EDTC300.  Within Twitter, I was really able to build upon my digital citizenship and develop my PLN.  I also really like using Twitter as a tool to expanding my professional community of other teachers, educators, friends and acquaintances.  I tried to retweet and tweet out resources that I have used within my #LearningProject assignment that we had to do, and also others that I had found on the site we got introduced to which was, Feedly.  This, for me, was challenging trying to find sources on Feedly that I liked in order to share on Twitter.  I didn't meet the 'tweet 2x a day' idea that we were supposed to adhere to, but I did tweet everyday.  I also retweeted, liked and commented quite a bit on what my peers and others posted on Twitter, so I made a presence that way!
WordPress (Blogging)
Another way that I was able to contribute to the learning of others was by blogging weekly and posting the link to my blog on Twitter for people to view and visit!  Through my blogs, I was able to share my ASL resources through my #LearningProject assignment.  I was also able to comment on my peers blog posts and give them my perspective, my ideas, my advice and encouraging words.  Not to mention, I loved the comments that I received from my peers and mentor on my blog posts.  Totally upped my confidence and I was so proud of my blog.
I loved learning what others were learning with their #LearningProjects.
Also, a huge shoutout to my EDTC300 mentor, Jordyn!  She gave me great insights on everything that I have posted within my blogs and have really boosted my confidence.  She shared kind words with me and also her experiences within the classroom and the different things that I have posted about different apps/tools and on ASL in the classroom.  I am so grateful for such an awesome mentor!!
via giphy.com
That's it, that's all!  It was a great semester, with an amazing professor!