-Week 10-
This week we decided to learn how to sign some emotions! Just like we did when we took this picture…
Signing emotions/feelings was an easy task for us to learn as we always have fun together and it was great to learn and be goofy at the same time!  Adrienne inspired this week's learnings by beginning to make funny faces to me and it gave me such inspiration to have her co-starring this week in signing our emotions away.  We used a YouTube tutorial video to help us perfect the signs of these emotions, on how to sign emotions. 
Below is the video we took of Adrienne and I signing!!
Again this week, Belle#2 couldn't miss out on the spotlight so she had to sit front row in Zia's (auntie in Italian) sweater.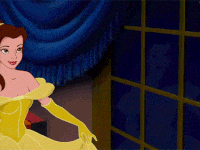 via giphy.com
Hope you enjoyed this week's blog post as much as we did! We will be back next week with learning how to sign some of our national holidays!
#KeepCalm&SignOn!