-Week 11-
This week we learned to sign some of the national holidays.  The holidays that we learned were Christmas, Easter, Hanukkah, Halloween, Happy Birthday and Thanksgiving.  These were a bit difficult to learn as some of them were combining two signs and some were one single motion.  We used a YouTube tutorial on Holiday Signs in American Sign Language. 
Don't miss out on watching us signing our holidays away!!! Again…super adorable!
It's a long way down the 'holiday road,'  but we had a great time on our holiday road with signing (HEHE)!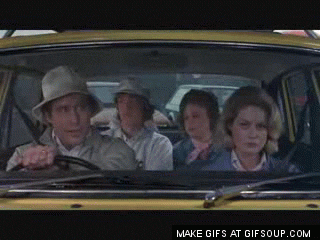 National Lampoon Vacation – Holiday Road via giphy.com
I really enjoyed teaching and learning alongside my niece, Adrienne.  It was very fun and we gained a lot of new knowledge throughout this process.
Thank you for watching… #KeepCalm&SignOn!!